July 4th PM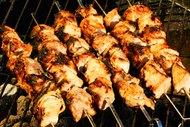 5:00 - 8:00 pm - PAPAGEORGE SOUVLAKI DINNER

Come join us for our famous souvlaki dinner prepared by the Papageorge family! Dinner goes from 5 to 8 p.m., or until we run out of food. Cost is $5 per plate. Dinner includes: one stick of souvlaki, salad, pita bread, dessert and a drink.
Extra sides and drinks can be purchased at an additional cost. Food is limited and no one will be served after 8 p.m.

---
5:00-9:00pm - BOOTHS / Childeren's Games
Lindsay Afuvai, 801-731-4187

A limited number of booths will be available for evening ONLY. We would like to have a focus on only kid-friendly booths (face painting, glow sticks, "old-fashioned" games, cotton candy, snow cones), please contact Lindsay for booth approval. Also please note that no food booths will be allowed to sell during the dinner (5-8 pm).
Booth registrations will start on Thursday, June 1st by contacting Lindsay. Cost is $25 per booth space; additional fees apply for power (limited availability).
**Due to regulations from the health department, any booths selling food must obtain a temporary food establishment permit from them. The Utah State Tax Commission also requires each booth obtain a temporary sales tax license,
more information will be available at the city office.

*Tents will not be provided so please plan to bring your own pop-up!
Registration deadline is Friday, June 30th at noon, or until spaces run out.
---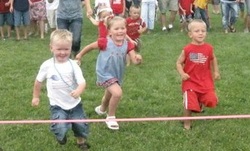 7:00 pm - Grass Scramble & Children's Races

We are excited to have brought back our Children's Races and Grass Scramble this year under the direction of Shane Denton! Races will start 7 p.m., each participant will receive a small prize. The grass scramble will immediately follow.
This event is for children only, age brackets will be 0-2 yrs, 3-4 yrs, 5-6 yrs, 7-9 yrs, 10-12 yrs and 13-16 yrs. Prizes include coins and candy!
---

8:45 pm - Grand Marshal Presentation

The Grand Marshal and overall winners from the Golf Tournament, 5k Run/Walk and Float Contest will be recognized at 8:45 p.m.
---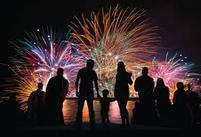 10:00 pm FIREWORKS

Our excellent fireworks are set to start at 10 p.m. and will be synchronized to music under the direction of DJ Cindy Sue and Lantis Fireworks Productions.

If you haven't seen our fireworks show yet, you are missing out!

---