July 4th AM

5K RUN/WALK
Andrea Ortgiesen, 801-731-4187 or Farr West Rec Center, 801-409-0077
7 a.m. FWC Hall --> Mountain View Park,
1896 N. 1800 W
Route
The route will start at FARR WEST CITY HALL - 1896 North 1800 West and ending at MOUNTAIN VIEW PARK
a race map is available at
ttp://goo.gl/ricqG5
. Please register at
https://farrwest4th.eventbrite.com
, the City Office or Rec Center.
The cost is $15 if preregistered by 8 p.m. Monday, June 26th and $25 until noon on Friday, June 30th (Includes a shirt)
NO REGISTRATIO,NS WILL BE ACCEPTED AFTER JUNE 30TH. Shirt sizes are only guaranteed to those who register before June 26th. Cash prizes will be awarded to the winners!
---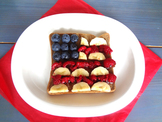 7:00 - 8:30 - BREAKFAST
Mike Grange, 801-721-3004 or Curry Gunnell, 385-205-5822

Breakfast will begin promptly at 7 a.m. and will go until 8:30 a.m. at the Mtn. View Park.
Tickets can be purchased at the event for $5 per person or $25 for a family (6 tickets).
The scouts will also be going around selling tickets or you may contact Mike or Curry for more information.

---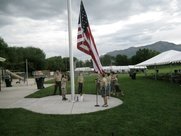 8:00 - WELCOME & FLAG CEREMONY

Flag Ceremony by:
local Veterans of Foreign War.

National Anthem by Jordan Arrington.


---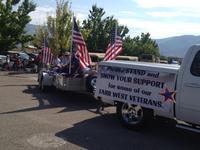 9:30 - PARADE
Val & Wanda Knight, 801-731-2723

The parade will start promptly at 9:30 a.m., starting with the kid's parade (please decorate bikes). Line up at 8:45 a.m. in the church parking lot at 1800 N. 1800 W.
The parade will start at the church and go up Harrisville Rd to 1350 West, turn south into the Mtn. View subdivision, and west onto 1500 North until it reaches the Mtn. View Park.
​If you are interested in entering a float, please contact Val or Wanda by June 30th. Calling all local Veteran's, Military, Law Enforcement and Firefighters, please contact us! We would love to highlight you and your service in the parade.
We would love support from local businesses and families alike!
ALL FLOATS WILL NEED TO BE REGISTERED.

No parking will be allowed along 1500 North during the parade, please help us in this effort.
---